Overview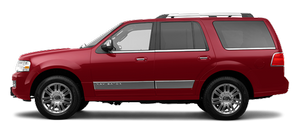 The Lincoln Navigator serves as Lincoln's full-sized luxury SUV. The Navigator shares the same platform with the lesser Ford Expedition full-size SUV. Introduced in 1998, the Navigator has proven extremely popular, comprising 40% of the American luxury SUV market in 2001. It is the larger of the two truck-based SUVs produced by Lincoln in the early 2000s, the smaller being the Aviator (which becomes the MKX for 2007). While the current 2006 Lincoln Navigator ranges in price from roughly $50,140 to $67,645, the new 2007 Lincoln Navigator will feature a price range of $52,990 to $66,545. If customized, the Lincoln Navigator's price can range to well over $100,000.
See also:
Important safety precautions
WARNING: Do not overfill the fuel tank. The pressure in an overfilled tank may cause leakage and lead to fuel spray and fire. WARNING: The fuel system may be under pressure. If you hear a hissing ...
Brakes
Occasional brake noise is normal. If a metal-to-metal, continuous grinding or continuous squeal sound is present, the brake linings may be worn-out and should be inspected by an authorized dealer. ...
Recycled engine coolant
Ford Motor Company does NOT recommend the use of recycled engine coolant since a Ford-approved recycling process is not yet available. Used engine coolant should be disposed of in an appropriate ...